Movie Review: 'Parasite' is masterful in every way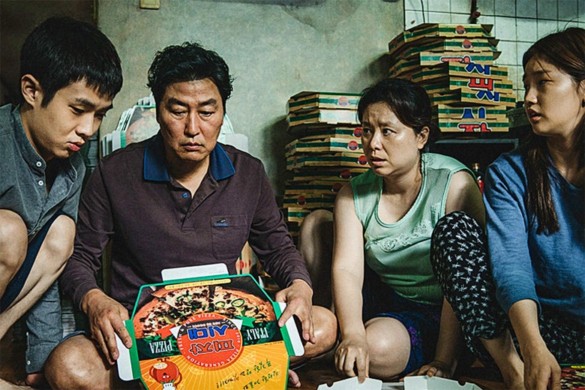 Director: Bong Joon-ho
Writers: Jin Won Han, Bong Joon-ho
Stars: Kang-ho Song, Yeo-jeong Jo, So-dam Park
Synopsis: All unemployed, Ki-taek's family takes peculiar interest in the wealthy and glamorous Parks for their livelihood until they get entangled in an unexpected incident.
Every now and then, there comes a film that leaves you absolutely stunned, unable to describe exactly what you just saw. This can either be a good thing or a bad thing, depending on the film. In the case of Bong Joon-ho's 2019 Palme d'Or winning phenomenon Parasite, this was a very good thing. Not once this year has a film provided so many social commentaries, laughs, and edge-of-your-seat thrills as this one has. In service to that, there will be very few plot points revealed here.
The film centers around two families. One is poor, and one is wealthy. Their lives intertwine in surprising ways that serve both as a commentary on the divide between classes in South Korea and a very interesting way to frame the film's narrative. The film also takes a complete turn about halfway through, which shifts the tone and pacing and even genre to something entirely different than it began as. It is completely unique, and that is why I am only revealing the smallest of detail. Going into the film as blind as possible will definitely enhance your experience, and will leave the film's surprises. But, there are certainly elements of the film that can be discussed without spoiling it.
First and foremost, the screenplay for this film is completely original, intricate, funny, and heartbreaking at the same time. It gives you a full range of emotion, and it's rare to say that for one film. It also provides just enough world building for the audience to understand its setting, but it also leaves some aspects open for interpretation. Also, Bong Joon-ho's direction is absolutely masterful, providing a full scope of the vision for this film and giving a rarely satisfying blend of genres with his visual choices. Finally, what seals the deal for the film are its performances. Personal standouts for me would include Song Kang-ho, Choi Woo-shik, Park So-dam, and Cho Yeo-jeong. Additional aspects to the commend are its cinematography, production design, score, and editing, all which beautifully serve the film's storytelling and scope.
All in all, Parasite is the most interesting and provocative film in 2019. I went in expecting one thing, and left having seen something completely and mesmerizingly different. This is a film that is best seen in a crowd, just to provide the reactions to the various twists and turns of the plot. It's the best film I have seen thus far in 2019, and it will be quite hard to top.
Overall Grade: A+
Hear our podcast review on the Main Show, coming very soon.