Movie Review: 'Marriage Story' is an astounding addition to the pantheon of great domestic dramas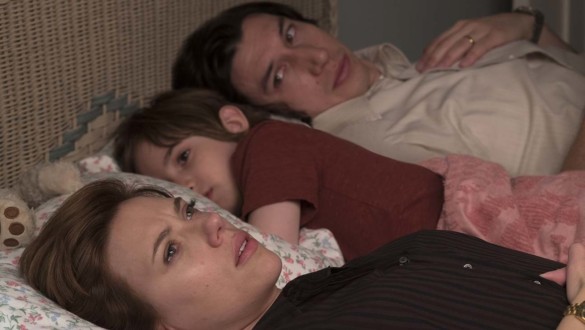 Director: Noah Baumbach
Writers: Noah Baumbach
Stars: Scarlett Johansson, Adam Driver, Laura Dern, Ray Liotta
Synopsis: Noah Baumbach's incisive and compassionate look at a marriage breaking up and a family staying together.
The mid-budget domestic drama has often been a prestigious genre of film. Whether it be Kramer vs Kramer, Ordinary People, or Terms of Endearment, films of this genre used to be major box office hits and massive winners at the Academy Awards. However, in recent years, it seems like less of these films have been hitting theaters and doing well monetarily. It seems as though in recent years, many of these films have been heading to streaming services instead of the traditional theatrical release, or putting themselves into other genres in the case of a film like Hereditary. Enter Marriage Story, the newest film from Noah Baumbach, a veteran in this genre with films like The Squid and the Whale, Margot at the Wedding, and The Meyerowitz Stories. This film is in the vein of his previous work, but also harkens back to the domestic dramas of the 1970s and 1980s in its style and filmmaking. Interestingly, this project was produced by Netflix, as was The Meyerowitz Stories. It seems as though films of this nature have a future at Netflix, as they also produced Alfonso Cuaron's acclaimed personal take on the genre in Roma. But how does Marriage Story compare to the great domestic dramas of before? Quite favorably, in fact.
The film tells the story of a once married couple Nicole (Scarlett Johansson), an actress, and Charlie (Adam Driver), a stage director. They live in New York with their son Henry (Azhy Robertson) while they are working on plays together. However, their personal goals have become so different that they decide to separate and divorce. This leads Nicole to move back with Henry to her hometown of Los Angeles, where she has been cast in an upcoming TV pilot. Charlie is forced to remain in New York, as he is finally getting his chance to direct a Broadway production. But while Charlie is working on his play in New York, he also must go back and forth to LA to ensure that he is being present as a parent to Henry. In the midst of this, Nicole hires high-profile divorce attorney Nora Fanshaw (Laura Dern), and Charlie is forced against his wishes to hire his own attorney Bert (Alan Alda). What follows is a masterfully raw, emotional, and quite often funny portrayal of what the process of divorce can do to family dynamics, as well as one's personal and professional goals.
The performances are what drives the greatness of this film. Adam Driver and Scarlett Johansson both give the most emotionally powerful and resonant performances of their career as Charlie and Nicole, providing these characters with fully encompassing portraits of the difficulties they face and challenges they overcome. Laura Dern is also a scene-stealing standout as Fanshaw. Furthermore, the rest of the supporting cast is quite excellent, especially Alan Alda, Ray Liotta, Julie Hagerty, and Merritt Wever. On top of the phenomenal performances, Baumbach's direction and script provide a wonderful balance between the relatable comedy of divorce, and the heartbreaking drama that it brings. The film's technical aspects are superb as well, with beautiful cinematography from Academy Award nominee Robbie Ryan (The Favourite) and a lovely score from Academy Award winner Randy Newman (Toy Story).
Overall, Marriage Story was even more satisfying than expected, and is an incredible addition to the pantheon of great domestic dramas. It is a film that has universal relatability, even if one has never been through divorce before, due to its raw and authentic presentation and incredibly emotional acting. It is easily one of 2019's best films.
Overall Grade: A+
Hear our podcast review on the Main Show, coming very soon.