Movie Review: 'Luce' is a tense, provocative film about morality and race relations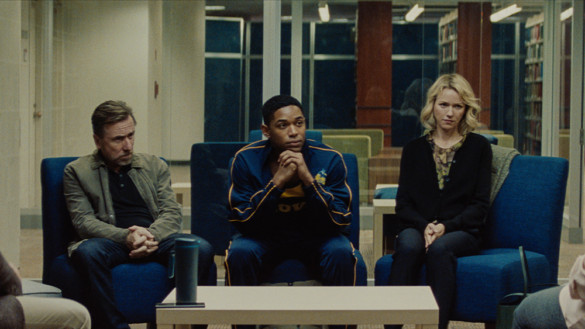 Director: Julius Onah
Writers: J.C. Lee (play), J.C. Lee (screenplay), Julius Onah (screenplay)
Stars: Naomi Watts, Octavia Spencer, Tim Roth, Kelvin Harrison Jr.
Synopsis: A married couple is forced to reckon with their idealized image of their son, adopted from war-torn Eritrea, after an alarming discovery by a devoted high school teacher threatens his status as an all-star student.
Luce was a surprise critical hit out of the Sundance Film Festival, given that it came from an interesting source. Julius Onah, a relatively new filmmaker best known for the widely seen Netflix film The Cloverfield Paradox, directed and co-adapted the film with JC Lee based on a previously written play by Lee. Given that the cast included Academy Award winner Octavia Spencer and nominees Naomi Watts and Tim Roth, this project piqued a lot of people's interest after Sundance. Does it live up to the hype? Well, I am glad to report that Luce is quite good, and in a different way than I was expecting.
The film centers around Luce (Kelvin Harrison Jr.), an overachieving student and track star who is about to graduate as the valedictorian of his high school in Arlington, Virginia. Luce was adopted from Eritrea at the age of 7 by Amy (Naomi Watts) and Peter Edgar (Tim Roth), a white American couple. Luce's circumstances place a lot of pressure on him to be successful and break the stereotypes associated with his situation. However, his seemingly perfect persona begins to crack when his teacher, Ms. Harriet Wilson (Octavia Spencer), is concerned by the content of one of his assignments and finds a suspicious item in his locker. When Ms. Wilson informs Amy of her concern, it sets forth a series of conflicts, revelations, and discoveries that make up the bulk of the film's plot. Through it all, we see how Luce, his family, his friends, and Ms. Wilson react to moral quandaries and deal with personal traumas and difficulties.
Overall, Luce is a morality tale in the form of a character study. It analyzes arguments about race relations, stereotypes, honesty, and the American dream in the context of the conflicts and dilemmas faced by Luce, Ms. Wilson, and the community around them. Many of the situations are left unresolved, leaving a lot for the audience to decide whose argument is right or wrong when there is often a moral gray area. This is a unique style that feels a lot more true to life than the typical film, given that many conflicts have no clear right or wrong answers. The screenplay is tense, biting, and raw, with lots of matter-of-fact language and not much fluff. It is greatly aided by the committed performances from the entire cast, especially its leads. Octavia Spencer gives one of the best performances of her career as Ms. Wilson, a complex woman who has a lot of personal difficulties while also having a somewhat problematic teaching philosophy. Naomi Watts is also incredibly strong, showing the difficulties that a mother in Amy's situation would face with a wide range of emotion. However, the real shining star of this film is Kelvin Harrison Jr. He imbues Luce with clear personal confidence and charisma, while also showing the inner darkness and duality of his character throughout the film. Keep an eye on his future career after this.
I would recommend Luce to anyone who is a fan of strong independent film, philosophical debates, domestic dramas, or really strong actor-based films. It's tense, provocative, unique, and personal. At an in-person Q&A with Julius Onah and Kelvin Harrison Jr. after my screening, both shared that the film contained a lot of the cast and crew's own experience within their work. It really is evident on the screen, and for that, the film is a real treat.
Overall Grade: A
Hear our podcast review on Episode 338, coming soon!