Movie Review: 'Good Boys' successfully hits all the right marks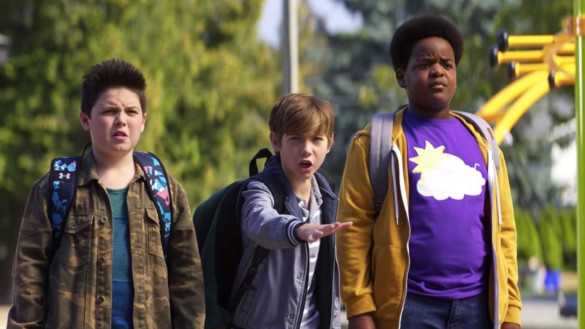 Director: Gene Stupnitsky
Writers: Lee Eisenberg, Gene Stupnitsky
Stars: Jacob Tremblay, Keith L. Williams, Brady Noon
Synopsis: Three sixth grade boys ditch school and embark on an epic journey while carrying accidentally stolen drugs, being hunted by teenage girls, and trying to make their way home in time for a long-awaited party.
2019 has not been a great year for studio comedies at the box office. Whether it be the Charlize Theron-Seth Rogen political rom com Long Shot, Olivia Wilde's directorial debut Booksmart, or the Rebel Wilson vehicle Isn't It Romantic, comedies aren't nearly the boon to the box office that they used to be. Well, here comes the new R-rated middle school comedy Good Boys, a Seth Rogen and Evan Goldberg-produced comedic venture from Universal. It is the feature directorial debut of Gene Stupnitsky, best known for co-writing and directing episodes of The Office. He also co-wrote the film with Lee Eisenberg, who co-produced the film with Rogen, Goldberg, James Weaver, and Jonah Hill. Surprisingly, this was the film to break the drought of R-rated comedies finishing atop the box office, with a $21 million opening weekend gross. But does Good Boys earn its box office crown on merit? Let's find out.
The film follows three sixth graders: Max (Jacob Tremblay), Thor (Brady Noon), and Lucas (Keith L. Williams). They collectively call themselves the Bean Bag Boys. They are crass, nerdy, and quite hormonal tweens who become curious when Max gets invited to their first "kissing party" at the home of popular kid Soren (Izaac Wang). Thor is nervous, as his bullying at the hands of another popular kid named Atticus (Chance Hurtsfield) causes him to desire to appear more tough and manly. Also, Max has a massive crush on a girl named Brixlee (Millie Davis), whom he would like to kiss at the party. Additionally, Lucas learns of troubling news at home from his parents (Lil Rel Howery and Retta), which puts him in a dour mood. In order to prepare for the party, the boys attempt to learn how to kiss by spying on their teenage neighbors Hannah (Molly Gordon) and Lily (Midori Francis) with the drone that Max's dad (Will Forte) told them not to touch while he was away. Their plan fails, and Hannah and Lily take the drone. While attempting to recover the drone, the Bean Bag Boys end up stealing Hannah's backpack, which happened to contain party drugs from Hannah's college ex Benji (Josh Caras). After this, hijinks ensue as the boys attempt to recover the drone while also getting rid of the drugs. What follows is a wild day of school skipping, interacting with sketchy strangers, playing with parental sex toys, avoiding the police, and general tween boy potty humor.
The film does not really do anything new. It's your standard day-leading-up-to-a-party comedy, with plenty of gags and physical comedy. Shifting the setting to early middle school does provide some age-related humor and shock value from what comes out of the kid's mouths. What makes the film truly work are its performances. Jacob Tremblay, Brady Noon, and especially Keith L. Williams excel with the material, providing humor while also reminding us of their childlike innocence throughout. Additionally, Molly Gordon and Midori Francis prove to be excellent foils for the Bean Bag Boys. Cameos from comedians like Will Forte, Lil Rel Howery, Michaela Watkins and Stephen Merchant provided plenty of laughs as well. While I personally would have preferred a smarter film like Booksmart to have been the year's breakout comedy hit, there is nothing wrong with that mantle going to Good Boys. As safe and rudimentary as it may be, it hits all the right marks it needs to be a successful film.
Overall Grade: B
Hear our podcast review on Extra Film, coming soon.