Movie Review: 'Ford v Ferrari' is an entertaining crowd-pleaser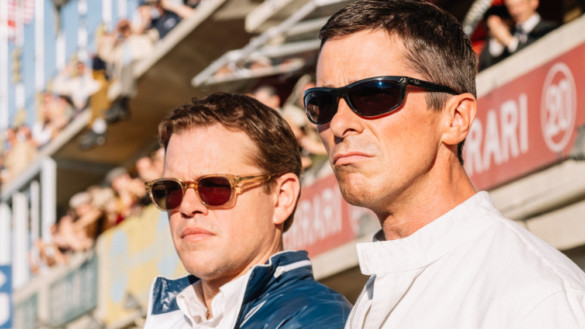 Director: James Mangold
Writers: Jez Butterworth, John-Henry Butterworth, Jason Keller
Stars: Christian Bale, Matt Damon, Caitriona Balfe, Tracy Letts
Synopsis: American car designer Carroll Shelby and driver Ken Miles battle corporate interference, the laws of physics and their own personal demons to build a revolutionary race car for Ford and challenge Ferrari at the 24 Hours of Le Mans in 1966.
James Mangold has been a consistently interesting director. Ever since coming into mainstream consciousness with 1997's Cop Land, he has been one of the most consistently interesting directors in Hollywood. He has directed two actresses to Oscar wins with Girl, Interrupted and Walk The Line, made a classic modern Western in 3:10 to Yuma, and completely subverted the superhero genre with Logan (my personal favorite of his films). Now, we have Ford v Ferrari, a slick racing drama with movie stars and loud cars. Does this live up to his earlier work? In many ways, it does.
The film centers around Ken Miles (Christian Bale), a British race car driver and WWII vet, and Carroll Shelby (Matt Damon), an American auto designer. They are chosen by Henry Ford II (Tracy Letts) to build a race car with the Ford Motor Company to compete against Enzo Ferrari (Remo Girone) and his race car manufacturing team at Scuderia Ferrari in the 24 Hours of Le Mans race. Miles is notably prickly and standoffish, but is always looking out for the best interest of his wife Mollie (Caitriona Balfe) and son Peter (Noah Jupe). During the production of what eventually became the Ford GT40, Ken and Carroll constantly clash with the upper management at Ford, especially Leo Beebe (Josh Lucas). But, along the way, there are many races to be won and the team must resolve their issues and constantly work to make the car that can finally beat Ferrari.
The film itself is a technical marvel. The racing scenes are impeccable, especially in the sound department. The film is also beautifully shot, edited, and scored. Additionally, the performances from the entire ensemble are strong, especially a very game Christian Bale looking and sounding more like himself than he has in years. While the film is very strong overall, it is not without issues. It is a tick long at 152 minutes, and probably could have been about 10 minutes shorter. Also, Matt Damon's character felt a bit underdeveloped, and could have used a bit more screen time. But overall, Ford v Ferrari is an entertaining and crowd-pleasing film that will please car enthusiasts and filmgoers alike.
Overall Grade: A-