Movie Review: 'Blinded By the Light' is an absolute delight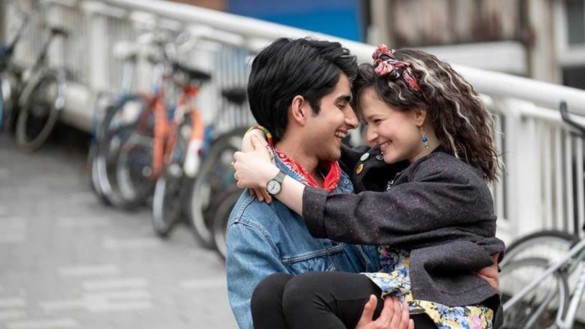 Director: Gurinder Chadha
Writers: Paul Mayeda Berges, Gurinder Chadha
Stars: Viveik Kalra, Kulvinder Ghir, Meera Ganatra
Synopsis: In 1987, during the austere days of Margaret Thatcher's Britain, a teenager learns to live life, understand his family, and find his own voice through the music of Bruce Springsteen.
It seems like every year out of Sundance, there is a crowd-pleaser that touches the heartstrings and uses universal themes to bring people together. Oftentimes, these films center around an entertainment medium, whether it be music or sometimes even comedy. In 2018, that film was Hearts Beat Loud. In 2017, that film was The Big Sick. In 2016, that film was Sing Street. The 2019 version of these films is Blinded by the Light, the newest film from Bend It Like Beckham director Gurinder Chadha. It's based on the memoir Greetings from Bury Park: Race, Religion, and Rock N' Roll by Sarfraz Manzoor, who co-adapted the screenplay with Chadha and her husband, Paul Mayeda Berges.
The film centers around Javed Khan (Viveik Kalra), a young British-Pakistani college student in 1987 who is one of the few people of South Asian descent growing up in Luton, England. He is an aspiring writer who consistently provides lyrics for his best friend Matt (Dean-Charles Chapman) to use for his band. When he begins his time at Luton Sixth Form College, he meets Roops (Aaron Phagura), who introduces him to "The Boss". He also meets Ms. Clay (Hayley Atwell), an enthusiastic writing teacher, and Eliza (Nell Williams), a politically rebellious fellow student. Javed discovers the true power of "The Boss" himself, Bruce Springsteen, after Roops loans him tapes of Born in the USA and Darkness on the Edge of Town. He immediately relates to the lyrics of songs like Dancing in the Dark and The Promised Land as a fellow young working class man from a small town. Soon, he becomes obsessed, and appears to collect all of Bruce's albums and memorabilia. He also begins to write more poetry and accidentally shares one with his neighbor Mr. Evans (David Hayman), a World War II vet who encourages him to continue writing. Additionally, Ms. Clay begins to read his poetry and encourages him to branch out and be more ambitious in his goals as a writer. He also takes a liking to Eliza, and woos her with a Springsteen serenade.
All is not sunshine and rainbows for Javed at home, however. His father Malik (Kulvinder Ghir) is laid off from his factory job, which forces Javed, his mother Noor (Meera Ganatra) and sisters Shazia (Nikita Mehta) and Yasmeen (Tara Divina) to all work harder in order to pay for Yasmeen's wedding. Additionally, Malik does not approve of Javed's writing ambitions and Springsteen obsession, and would rather him focus on his studies in order to serve a more practical occupation. In addition, the civil unrest during the British recession in the time of Thatcher and the rise of the racist National Front provides a backdrop for the racism that Javed's family constantly faces as one of the few Pakistani families in their town. Through it all, Javed goes through a journey of self-discovery and is faced with many difficult decisions. Should he conform and follow the path his father wants him to take, or should he follow his heart and write with the inspiration of Bruce Springsteen? In short, it's a coming-of-age story that can be related to by anyone, whether you are knowledgeable on the specifics of being a Pakistani in small-town 1980s Britain or not.
As a film, Blinded by the Light worked on many levels. The screenplay was comedic, relatable, and heartbreaking at points all at once. The acting, especially from breakout star Viveik Kalra and Kulvinder Ghir, was extremely real and relatable. However, the most fantastic aspect of the film is the use of Springsteen's music and the way it manifests itself on screen in euphorically choreographed sequences, often which include his lyrics displayed prominently on screen. This puts the audience in Javed's mindset as he journeys through his own Springsteen-laden journey of self-discovery. As for the negatives, the film can seem a bit cliché and predictable at some points. But, given that the author of the memoir the film was based on co-adapted the screenplay, it deserves some leeway for likely sticking to somewhat true events.
Overall, Blinded by the Light is an easy film to recommend. It's not just a treat for Springsteen fans or fans of Gurinder Chadha's previous films. It is a film that should be seen by as many people as possible, as it tackles so many relevant and universal thematic points. It also can be used to unify others in spite of their differences. In conclusion, Blinded by the Light is the Sundance crowd-pleaser in 2019 that deserves its mentions with Hearts Beat Loud and Sing Street as some of the definitive independent music films of the decade.
Overall Grade: A
Hear our podcast review on Extra Film, coming soon.