Movie Review: 'A Beautiful Day in the Neighborhood' is a triumph in every way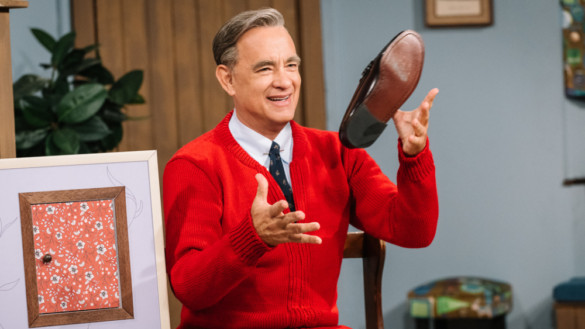 Director: Marielle Heller
Writer: Micah Fitzerman-Blue, Noah Harpster
Stars: Tom Hanks, Christine Lahti, Matthew Rhys
Synopsis: Based on the true story of a real-life friendship between Fred Rogers and journalist Tom Junod.
Fred Rogers has been a person who has had a bit of a resurgence of interest in the last couple of years. There was the 2018 hit documentary Won't You Be My Neighbor?, which was an incredibly well received look at Rogers' life and impact on the world. Now, in 2019, a narrative film with him as a subject has come into fruition. The script by Noah Harpster and Micah Fitzerman-Blue for A Beautiful Day in the Neighborhood, adapted from former Esquire magazine writer Tom Junod's article Can You Say…Hero?, had been in development for about a decade, and was on the list for best unproduced screenplays for many, many years. But, once they were able to find eager collaborators in Marielle Heller (Can You Ever Forgive Me?) and Tom Hanks, the film was able to be made. Does the film tell a worthwhile story? Oh yes, and then some.
The film does not center on Fred Rogers, but rather Lloyd Vogel (Matthew Rhys), a fictionalized version of Tom Junod. It examines how Lloyd, a cynical and pessimistic writer at Esquire, is personally affected by profiling Fred Rogers (Tom Hanks) for the magazine's Heroes issue. Initially, the article is supposed to be only around 400 words, but as Lloyd interviews Rogers, he becomes more and more fascinated by his unimpeachable character. In the midst of this, Lloyd has to deal with issues within his own family, as his estranged father Jerry (Chris Cooper) re-enters his life and causes Lloyd to relive a lot of his past trauma. Lloyd is also a new father to a baby boy with his wife Andrea (Susan Kelechi Watson), which comes into play when interviewing Fred about his role as a father figure to many children and trying to be for his son what his father was not for him. All in all, the film truly tells the story of how Fred Rogers was able to give a cynical journalist like Lloyd Vogel a new lease on life.
There is a lot to praise about this film. First and foremost, this is the role Tom Hanks was born to play. He truly embodies the spirit of Fred Rogers, and nails down his mannerisms and way of personal interaction masterfully. Matthew Rhys is also excellent, as he brings so many complex emotions and unexpected character moments to Lloyd throughout the film. But, the true surprise of the film is Chris Cooper. His performance is heartbreaking, funny, and truly human. Additionally, Heller's direction is absolutely marvelous and works completely in concert with the script. It takes all of the elements of an episode of Mister Rogers' Neighborhood and infuses them into the story in a beautiful fashion. The film never shies away from challenging subject matter, and has so many wonderful emotional touches.
A Beautiful Day in the Neighborhood is truly a triumph in all facets. It is everything one could hope for in a narrative film about Fred Rogers, and on top of that a wonderful, moving story about parenthood, friendship, and love. When it is released around Thanksgiving, this should be a film that many families go to see together and learn from. It is the type of movie that makes a dark world feel just a bit more friendly.
Overall Grade: A+