Featured: The True Story of Mickey and Minnie Mouse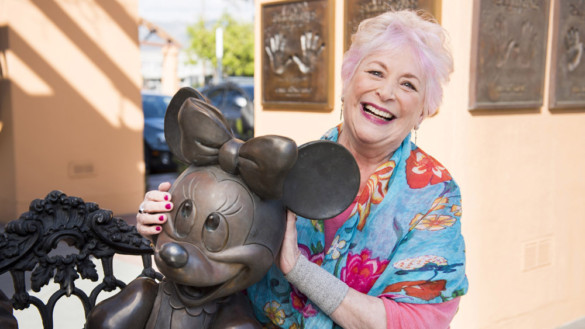 On July 26, 2019, Russi Taylor, the beloved voice actress and Disney Legend behind the voice of Minnie Mouse (from 1986-present) and countless others, passed away at 75 years old. What many did not know is that she was married to Wayne Allwine, her counterpart and longtime Mickey Mouse voice actor (1977-2009), from 1991 until his death in 2009. According to a 2017 Variety article by Terry Flores, the two met in the hallway while Taylor was recording Totally Minnie. While the two were married at the time, they felt an instant connection, and once they got out of their previous marriages, they quickly fell in love. In my opinion, the chemistry between the two of them was palpable in their voice work as Mickey and Minnie, and I'd like to cite a few examples of my favorite releases containing their voice work:
Mickey's Once Upon a Christmas (1999)
This direct-to-video anthology film was a holiday favorite of mine growing up, and the most memorable segment was Mickey and Minnie's Gift of the Magi. In the segment, Mickey and Minnie both are trying to buy gifts for one another. In Mickey's case, he is looking to buy Minnie a gold chain for her watch. In Minnie's case, she is looking to buy him a case for his harmonica. Both attempt to work hard at their jobs in order to do so, but hijinks prevent them from following through. In Mickey's case, while working at Crazy Pete's Tree Lot, he sets Pete off by giving a tree to a poor family for free. When this causes Pete to go off and accidentally set fire to all of his trees, Mickey resorts to trading his harmonica in for the chain after playing music for the owner. In Minnie's case, she works overtime for a bonus at her department store job, only for her boss Mortimer Mouse to pay her bonus in fruitcake. But she still is able to get Mickey a harmonica case by exchanging her watch. Ironically, Mickey and Minnie reunite, having bought a chain for a watch and a case for a harmonica that neither owns anymore. The both of them realize that it's the thought that counts, and are still able to enjoy Christmas together. The beautiful spirit and message of the short, as well as the palpable chemistry between Allwine and Taylor as Mickey and Minnie, make this short a Disney holiday classic I revisit often.
The Spirit of Mickey (1998)
Another direct-to-video shorts anthology of the most classic Mickey and Minnie Mouse shorts throughout time, it also features interstitials throughout of Mickey and Minnie Mouse, along with Donald and Daisy Duck, Goofy, Max Goof, and Ludwig von Drake. The interstitials feature the voice talent of Allwine and Taylor. Featuring classic shorts such as The Band Concert, Thru the Mirror, and even the original Mickey Mouse theatrical short, Steamboat Willie, among others, The Spirit of Mickey is a fun trip through the history of Disney's animation in how the Mickey Mouse shorts evolve in animation style and voice performance over time.
Who Framed Roger Rabbit (1988)
A revolutionary film from Robert Zemeckis that blended live action characters with hand drawn 2D animated characters, Who Framed Roger Rabbit follows human detective Eddie Valiant (played by the late Bob Hoskins) as he investigates the murder of Marvin Acme, head of the cartoon village of Toontown and the fictional Acme Company. Along the way, he becomes associated with toons such as Roger Rabbit (voiced by Charles Fleischer) and his sexy wife Jessica (notably voiced by an uncredited Kathleen Turner) as they try to solve the mystery and avoid the evil Judge Doom (played by Christopher Lloyd). The most revolutionary aspect of this film was the coexistence of both classic Disney characters such as Mickey, Minnie, Donald, and Goofy with classic Warner Bros characters such as Bugs Bunny, Daffy Duck, Porky Pig, Sylvester, and Tweety Bird. Additionally, other classic cartoon characters such as Betty Boop, Droopy Dog, and Woody Woodpecker appeared as well. Who Framed Roger Rabbit was the most ambitious crossover of all time when it was released, and required other studios to cooperate with stipulations in order to allow the characters to be used. The result was a wildly entertaining, visually stunning film, and a landmark moment where the only time Disney and Warner Bros characters would coexist. Allwine and Taylor are featured as Mickey and Minnie Mouse, which is notable because it was one of the last appearances of one of their idols, Mel Blanc, as the classic Looney Tunes characters. The risk of this film paid off, as it was the second highest grossing film of 1988 at the domestic box office and won 3 Academy Awards (Sound Effects Editing, Visual Effects, and Film Editing), while also being nominated for Art Direction, Cinematography, and Sound, and also winning a special achievement Oscar. If you have never seen this one, I cannot recommend it highly enough!
These three examples are a few of the ways that Russi Taylor (and her late husband Wayne Allwine) impacted me throughout my childhood and life. I know there are countless others that have affected everyone else, and if you have any more examples that are important to you, feel free to comment below!