Featured: 25 Most Anticipated Films from the Major Fall Festivals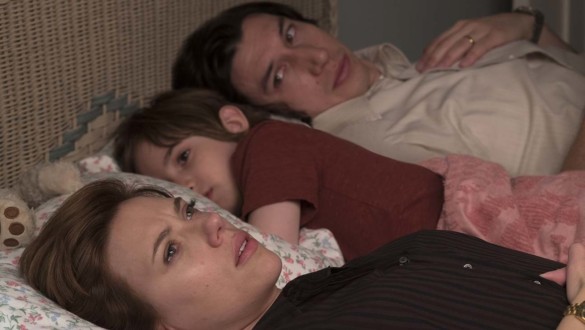 It's that time of year again folks! Fall festival season has arrived, and with it comes a boatload of films to anticipate! With Venice and Telluride starting up and reactions already coming in for some early films, it makes sense to have a most anticipated list of films from the four major fall festivals (Venice, Telluride, TIFF, and NYFF). Without further ado, here we go!
25. The King (Venice)
The new film from David Michôd (Animal Kingdom), adapted from Shakespeare's Henriad and starring Timothée Chalamet and Joel Edgerton, is an anticipated Netflix release. The role of King Henry V appears to be a very different type of role from the ones Chalamet has been taking in his career so far. It may not be something given major awards consideration, but at the very least it appears to be an entertaining new look at history.
24. The Two Popes (Telluride and TIFF)
Another anticipated Netflix release, The Two Popes tells the story of how Pope Benedict XVI became the first Pope to resign from his position in centuries, and depicts how he interacted with his successor, Pope Francis, as the transfer occurred. Made by a strong team of director Fernando Meirelles (City of God), writer Anthony McCarten (The Theory of Everything), and stars Jonathan Pryce and Anthony Hopkins, the film at least appears to be on that will provoke interesting discussions about the papacy.
23. Uncut Gems (Telluride and TIFF)
The new film from A24 and the Safdie brothers (Good Time) has an interesting sounding plot. It also has an all-star cast, including Adam Sandler, Lakeith Stanfield, Idina Menzel, Judd Hirsch, and of all people The Weeknd and former NBA player Kevin Garnett. The buzz surrounding this one has been strong, and it's rare to see Adam Sandler take on serious roles, so curiosity abounds.
22. Dolemite is My Name (TIFF)
Yet another upcoming Netflix release, this is the first film Eddie Murphy will be appearing in since 2016. It is a biopic about blaxploitation filmmaker and comedian Rudy Ray Moore. It also is directed by Craig Brewer (Hustle and Flow) and has a hilarious ensemble which includes Keegan-Michael Key, Mike Epps, Craig Robinson, Tituss Burgess, Da'Vine Joy Randolph, TI, Chris Rock, Snoop Dogg, and Wesley Snipes. Hopefully this is a return to form for Murphy and a new kickstarter to return him to film again.
21. A Hidden Life (Telluride)
A sweeping epic historical drama from Fox Searchlight comes from the mind of the legendary Terrence Malick (The Tree of Life). It premiered to some raves at Cannes. Despite its runtime of 173 minutes, many believe this film will be a major awards contender and a return to form for Malick.
20. Judy (Telluride and TIFF)
From well-regarded theater director Rupert Goold (True Story) comes a biopic on the iconic Judy Garland in her later years, starring Renee Zellweger in the title role. It was adapted from the play End of the Rainbow. Many are pegging this as a potential comeback and awards vehicle for Zellweger, but no one is quite sure how it will turn out. Regardless, it will at least be interesting to see the final product.
19. The Goldfinch (TIFF)
From Amazon Studios and acclaimed director John Crowley (Brooklyn) comes an adaptation of the NYT bestseller by Donna Tartt. The film stars Ansel Elgort, Oakes Fegley, Nicole Kidman, Finn Wolfhard, Sarah Paulson, Luke Wilson, and Jeffrey Wright, and is shot by the legendary Roger Deakins (Blade Runner 2049). Many are skeptical that the book can be adapted well, but the visuals and cast alone will merit attention.
18. The Aeronauts (Telluride and TIFF)
From Amazon Studios and director Tom Harper (Wild Rose), this film reunites Eddie Redmayne and Felicity Jones in a historical hot air balloon adventure. This promises to be at the very least a fun visual spectacle, and at best a thrilling joyride. Hopefully the visuals will have the story to match.
17. Pain and Glory (Telluride, TIFF, and NYFF)
The latest from Academy Award Winner Pedro Almodovar (Talk To Her) has already received acclaim from its Cannes premiere. There have been many raves about the performance from its star Antonio Banderas, and apparently it features a very autobiographical script from Almodovar. It promises to be one of the frontrunners for Best International Film at the Academy Awards as Spain's entry.
16. The Laundromat (Venice and TIFF)
Yet another Netflix film, this one tells the story of the Panama Papers. Directed by Academy Award winner Steven Soderbergh (Traffic) and written by his longtime collaborator Scott Z. Burns (The Informant!), it stars perennial Awards queen Meryl Streep, Gary Oldman, Antonio Banderas, Jeffrey Wright, Robert Patrick, David Schwimmer, and Sharon Stone. It promises to be an entertaining caper in the vein of Soderbergh's previous work, and will at the very least likely garner yet another Oscar nom for Meryl.
15. Waves (Telluride and TIFF)
Another A24 flick, this comes from director Trey Edward Shults (It Comes at Night) and features Kelvin Harrison Jr., Lucas Hedges, Renee Elise Goldsberry, and Sterling K. Brown. It is an emotional story of an African-American family in Florida overcoming tragedy. The buzzy release date of November 1 and the talent behind this film signals a potential indie breakout success.
14. Harriet (TIFF)
A biopic from Focus Features and director Kasi Lemmons (Eve's Bayou) tells the story of Harriet Tubman, the pioneering civil rights activist and leader of the Underground Railroad. Cynthia Erivo will be portraying the legendary figure, and has been pegged as this year's frontrunner for the Best Actress Oscar. With fellow cast members Leslie Odom Jr and Janelle Monae, and awards darlings in the crew like Oscar winning DP John Toll (Legends of the Fall) and the recently nominated Terence Blanchard doing the score, it promises to be a potential major player in Awards season.
13. Joker (Venice, TIFF, and NYFF)
A Warner Bros/DC Comics production from director Todd Phillips (The Hangover), this will be a very different comic book film. It will give us a version of the origin story for the legendary Batman villain, in this version being portrayed by Joaquin Phoenix as a failed stand-up comedian and clown. With the trailer bringing comparisons to early Scorsese works like The King of Comedy, and its multi-festival run, it appears that Warner Bros believes this film will be more than just another pulpy comic flick.
12. Ford v Ferrari (Telluride and TIFF)
The newest film from Academy Award nominee James Mangold (Logan), this film tells the story of how the Ford and Ferrari motor companies attempted to outdo each other by building the best race car for the 1966 24 Hours of Le Mans race. It stars legendary actors Matt Damon and Christian Bale, and features a sprawling ensemble and acclaimed crew. It promises to be a minor crowd-pleaser at the very least, and at the best a successful and exciting look at a critical moment in racing history.
11. The Report (Telluride and TIFF)
The directorial debut of the aforementioned Scott Z. Burns, this film premiered to raves at Sundance and was acquired by Amazon Studios. Starring Adam Driver and Annette Bening, it tells the story of how the Senate Intelligence Committee investigated the CIA's post-9/11 torture methods. Early reactions are that it will be a major awards contender, especially for its screenplay and its performances. Hopefully the film lives up to the early hype it has received.
10. Knives Out (TIFF)
The newest film from Rian Johnson (Star Wars: The Last Jedi) is a sprawling whodunit caper with a phenomenal cast, including Chris Evans, Daniel Craig, Ana de Armas, Jamie Lee Curtis, Toni Collette, Don Johnson, Michael Shannon, Lakeith Stanfield, Katherine Langford, Jaeden Martell, and Christopher Plummer. It promises to be popcorn-munching fun, at the very least. Hopefully, it's a crossover success that hits on all cylinders and competes for awards.
9. The Lighthouse (TIFF)
A24's much anticipated sophomore release from director Robert Eggers (The Witch) promises to be possibly the most unique film of the year. A black and white horror two-hander, it features Willem Dafoe and Robert Pattinson as two keepers of a lighthouse that slowly lose their minds. Premiering to raves at a Cannes screening, this film looks entirely ubiquitous and fun, with major breakout potential for its two lead actors.
8. Just Mercy (TIFF)
A Warner Bros release from director Destin Daniel Cretton (Short Term 12), this film is an adaptation of the memoir from attorney Bryan Stevenson, who appealed the case of a man who was wrongly imprisoned for murder. Starring Michael B. Jordan, Jamie Foxx, Brie Larson, O'Shea Jackson Jr., Rob Morgan, Rafe Spall, and Tim Blake Nelson, this film promises to be socially relevant to the current time we are in. If it hits on all cylinders, this could be the surprise film of the season.
7. Ad Astra (Venice)
The newest film from director James Gray (The Lost City of Z) is a space epic. It tells the story of an astronaut who must deal with his past in order to solve the mystery of the future. It stars Brad Pitt, Tommy Lee Jones, Ruth Negga, Liv Tyler, and Donald Sutherland, and includes acclaimed crew members such as DP Hoyte van Hoytema (Dunkirk) and composer Max Richter (Mary Queen of Scots). Early reviews out of Venice have raves mixed in with some detractors, but at the very least it will be provocative. At best, it could be a stone cold classic of the genre, in the vein of recent films like Arrival and Interstellar.
6. Jojo Rabbit (TIFF)
The newest film from writer-director Taika Waititi (Thor: Ragnarok) is a self-described "anti-hate satire" that takes place during World War II in Nazi Germany. It has a strong cast including newcomer Roman Griffin Davis, Scarlett Johansson, Thomasin McKenzie, Sam Rockwell, Rebel Wilson, Stephen Merchant, Alfie Allen, and Waititi himself as an imaginary Adolf Hitler. At best, it could be a scathing indictment of racism that is both funny and hard-hitting. At worst, it could be polarizing and confusing. But it's most likely going to be quite entertaining either way.
5. Portrait of a Lady on Fire (Telluride, TIFF, and NYFF)
Another International film, this one comes from acclaimed French writer-director Celine Sciamma (Tomboy). It is a historical drama that portrays a forbidden lesbian romance. The film already premiered to raves at Cannes, and won multiple awards there. Given that Sciamma herself is lesbian and has done acclaimed work with LGBTQ themes in the past, this film will surely be an excellent addition to the queer cinema oeuvre.
4. A Beautiful Day in the Neighborhood (TIFF)
The newest film from director Marielle Heller (Can You Ever Forgive Me?), the film portrays how a journalist is personally affected by interviewing the legendary children's TV pioneer Fred Rogers. Starring Matthew Rhys as the journalist and Tom Hanks as Mr. Rogers himself, it promises to be the year's most broadly appealing crowd-pleaser. Additionally, coming off the heels of the popular documentary Won't You Be My Neighbor?, the appetite for more Fred Rogers content and analysis is here. Additionally, coming off the heels of her last film, Heller is one of the rising stars in the directing world. In other words, it's hard not to root for this film to succeed.
3. Parasite (Telluride, TIFF, and NYFF)
From legendary South Korean filmmaker Bong Joon-ho (Snowpiercer) comes what has been the most critically lauded film of the year so far. Winner of the Palme d'Or at the Cannes Film Festival, it apparently is a surprising mix of genres and themes, with twists and turns many critics have said should not be spoiled without viewing the film. Expect this to be a frontrunner for many awards this season, especially in the Oscar race for International Film, where it has already been submitted by South Korea. If it really hits, it could promise to be the Roma of this year.
2. The Irishman (NYFF)
From the iconic Martin Scorsese (Goodfellas) comes the epic story of Frank Sheeran, a hitman who played a role in the disappearance of Jimmy Hoffa. Starring Robert De Niro, Al Pacino, Joe Pesci, Harvey Keitel, and Anna Paquin, the film is sprawling and technologically ambitious. It is the most expensive film that Netflix has ever produced, and that is mainly due to the fact that much of the main cast will be de-aged throughout the film. It also has an apparent runtime of 210 minutes. Given the legendary career of Scorsese and most of the actors involved, and their success with gangster films, this promises to add to the legendary catalog of the genre. Hopefully there will be an intermission!
1. Marriage Story (Venice, Telluride, TIFF, and NYFF)
The only film this season that will be hitting every major festival, this is what appears to be the biggest player of them all from Netflix. From acclaimed writer-director Noah Baumbach (The Squid and the Whale), this is a divorce drama of the highest possible caliber. It features an incredible main cast of Scarlett Johansson, Adam Driver, Laura Dern, Alan Alda, and Ray Liotta. Already, the film has received raves out of Venice as one of the definitive works of its genre, and a career best for Baumbach, Driver, and Johansson. It is a film that seems destined for greatness, and hopefully will earn entry into the pantheon of classic domestic dramas like Kramer vs. Kramer and Ordinary People. Watch out, Oscars, here it comes!
Honorable Mentions:
Clemency (TIFF)
Honey Boy (TIFF)
Lucy in the Sky (TIFF)
Atlantics (NYFF)
The Truth (Venice and TIFF)
Ema (Venice and TIFF)
Seberg (Venice and TIFF)
Motherless Brooklyn (Telluride, TIFF, and NYFF)
Hustlers (TIFF)