Movie Series Review: Australia (Baz Luhrmann)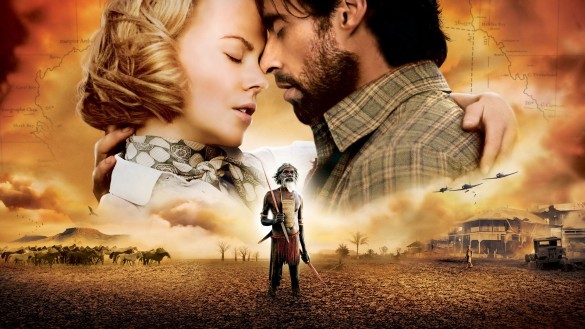 Director: Baz Luhrmann
Writers: Baz Luhrmann, Stuart Beattie, Ronald Harwood, Richard Flanagan
Stars:  Nicole Kidman, Hugh Jackman, David Wenham, Brandon Walters
Synopsis: Set in northern Australia before World War II, an English aristocrat who inherits a sprawling ranch reluctantly pacts with a stock-man in order to protect her new property from a takeover plot. As the pair drive 2,000 head of cattle over unforgiving landscape, they experience the bombing of Darwin, Australia, by Japanese forces firsthand.
DIRECTION
With Strictly Ballroom, Romeo + Juliet and Moulin Rouge!, it's pretty apparent that Baz Luhrmann has a very unique (to say the least) visual style. Australia is not quite like those films, instead focusing more on landscapes and picturesque vistas. Luhrmann gets solid performances out of his cast, even though most of the characters aren't very well written and are very one-dimensional. And that leads into Luhrmann's biggest problem: the script, which is too long and just isn't very good.
Grade: C+
SCRIPT
Overlong, slow, cliched, melodramatic are the best ways to describe the script for Australia. This is a nearly three-hour film that could've easily been cut down to less than two hours and you really wouldn't miss a thing. The main story arc of Hugh Jackman's Dover and Nicole Kidman's Lady Sarah Ashley is incredibly cheesy and very sappy and what was with making all the Aboriginal people seem like mystical beings? Just a disaster all around.
Grade: D
PERFORMANCES
For the most part the performances are solid in Australia with Jackman doing by far the best work. Brandon Walters, who plays the young Aboriginal boy, also is really good in his first feature film role. Kidman is kind of hit or miss, sometimes good and sometimes terribly bad (she was more hit than miss in Moulin Rouge!).
Grade: B-
SCORE
Like the rest of Australia, there's nothing memorable of this front. The score by David Hirschfelder is uninspired and unoriginal, using a lot of themes that can be found in many other westerns and romantic melodramas. But if you're into The Wizard of Oz, they do incorporate "Over the Rainbow" into the film quite a bit. So there's that.
Grade: C
Overall Grade: C-