Movie Review: 'The Hole in the Ground' isn't anything groundbreaking, but still a decent watch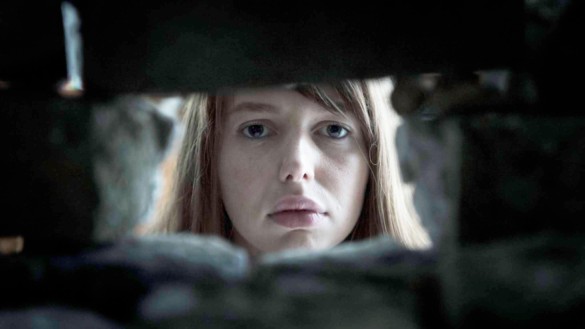 Director: Lee Cronin
Writers: Lee Cronin, Stephen Shields
Stars: Seána Kerslake, James Quinn Markey, James Cosmo, Kati Outinen
Synopsis: A young mother living in the Irish countryside with her son suspects his increasingly disturbing behavior is linked to a mysterious sinkhole in the forest and fears he may not be her son at all.
I have a love/hate relationship with horror movies. I love watching them, I love the stories they tell, and look forward to how they'll scar me for life and/or make me have an irrational fear of something I deal with every day. Horror movies enter a whole other level when they add creepy children to the plot. The Hole in the Ground falls into that "creepy kid" category. It's an Irish film, it premiered at Sundance this past February and it's now available on Amazon Video, Vudu, and other VOD platforms.
The Hole in the Ground tells the story of Sarah and Chris O'Neill, a mother and young son who move to the country to presumably get away from a not-so-nice husband/father figure. They live in a large fixer-upper house on the edge of a large forest. After running around one day they discover a huge creepy sinkhole in the woods and Sarah tells Chris to stay away from it. Chris is shy in school but has a good relationship with his mom, we are shown they have several inside jokes and games. One night Sarah wakes up to find her son is missing from his bed! She frantically runs around looking for him, even venturing out to the woods, but as soon as she's on the phone with the police Chris reappears. Soon after this event, Sarah notices her son is behaving differently and begins to think something is very wrong.
This movie doesn't really offer anything new to the genre, it's the standard "creepy kid" movie we've all seen before. The "kid being replaced by something sinister" story has been used many times. I will say that this film is much better than The Prodigy, which has a similar vibe and was released earlier this year. I was also confused by the giant sinkhole. If something that huge and creepy was that close to my house, I'd report it to someone. There's no way that's normal and/or safe. So it was weird to me that Sarah stumbled across it and the only thing she did is tell her son he can't play in the woods. There are some plot holes that bothered me, but not enough that I didn't enjoy the movie.
What The Hole in the Ground lacks in originality, it makes up for in other areas. The scenery in this movie is beautiful, the opening and closing shots are dramatic and instantly give off that uncomfortable feeling that is prominent during the rest of the film. The cinematography is better than I expected in a movie like this, I really need to find out where it was filmed. The music was another positive for me, it did its job adding tension and drama to scenes that needed it. Seána Kerslake gives a strong performance as the mother Sarah, and James Quinn Markey also does a good job as her son Chris. The supporting cast, save for a small role from James Cosmo, is mostly forgettable.
Although The Hole in the Ground brought nothing new to the horror genre, it's still a decent movie that was fun to see on the big screen. It's worth a try if you're looking for a solid horror movie, if you like Irish films, or if you just need something new to watch.
Overall Grade: C+