Movie Review: 'The Dirt' lives less on the "Wild Side", and is just more of the "Same Ol' Situation"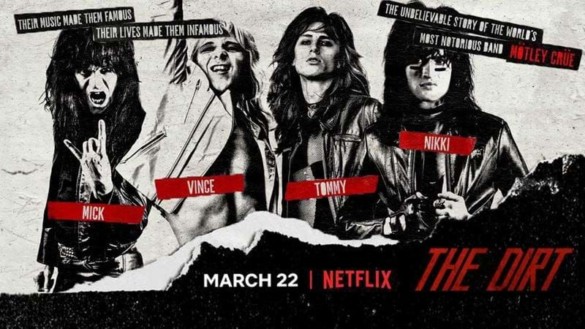 Director: Jeff Tremaine
Writers: Amanda Adelson, Rich Wilkes
Stars: Douglass Booth, Iwan Rheon, Daniel Webber, Machine Gun Kelly
Synopsis: The story of how Mötley Crüe came to be one of the most notorious rock 'n roll groups in history.
"Kneel down ye sinners to streetwise religion. Greed's been crowned the new king. Hollywood dream teens. Yesterday's trash queens. Save the blessings for the final ring. Amen." ("Wild Side", Mötley Crüe)
And a life on the wild side they lived. Formed by Nikki Sixx, Tommy Lee, Mick Mars, and Vince Neil (not their official names, as I'm sure you could tell), this gang of misfits would eventually dub themselves as the "world's most notorious rock band". Whether you agree with this notion is certainly up for debate, as the Hair Metal movement has since become notorious in its own right (almost like a taboo genre), churning out the most overly processed, superficial, and phony rock music of its time; the literal embodiment of sex, drugs, and rock and roll. Bands like Skid Row, Poison, Ratt, and Warrant were a youth gone wild who wanted nothing but a good time, a routine they circumnavigated round and round (maybe even chowing down on some cherry pie in the process).
I may have a bit of soft spot for 80's Hair Metal, but even I can admit how stale many of these acts were. But amidst all the lipstick and leather pants, Mötley Crüe at least stood out. Releasing their debut album Too Fast for Love in 1981 (a genuinely great album in this writer's opinion), Mötley Crüe in many ways predated and kickstarted the Glam Metal movement, nor did they fully succumb to the branded machine the genre would eventually turn into (aside from their wildly overrated hit album Dr. Feelgood in 1989). This motley crew were not pretty boys out for glamour, they were out for blood and anarchy, perhaps the closest thing to punk that the Sunset Strip ever housed.
Blood and anarchy are what fueled the band's autobiography The Dirt: Confessions of the World's Most Notorious Rock Band (the basis for this film adaptation now up on Netflix). That novel (which is a great read for any fan of rock and roll) represented a now older gang of misfits looking back on the nasty choices they made in the 1980s, with a strange blend of admiration and regret. This made for an interesting dichotomy, about a band who has become increasingly self-aware of their debaucherous lives; the pain it caused themselves and others, while still seemingly prideful in their actions. Whether they are still proud, it cannot be denied the vulgarity the band stood for (if we are to take their words truthfully). Just as they sang, Mötley Crüe lived life on the "Wild Side", and their autobiography noted that.
But within our current landscape of music biopics, The Dirt just feels more like the "Same Ol' Situation".
It doesn't open up that way, as the first five minutes of The Dirt should feel like a breath of fresh air for anyone who thought Bohemian Rhapsody played it way too safe. I won't describe what happens here just for the sake of censorship, but it proves the Crüe's life of disgusting debauchery, and demonstrates exactly why the band brought on Jeff Tremaine (of Jackass and Bad Grandpa fame) to direct.
…THEN The Dirt plays it safe.
"Safe" is the last word I thought I would use when describing a film about Mötley Crüe; but for all the Crüe's depravity, it never feels more than merely implied. Amanda Adelson and Rick Wilkes' screenplay does exactly what all modern music biopics should not do, adapting the band's Wikipedia page instead of their novel. The band's decadence and anarchistic motivations are directly explained to each other and to the audience, many times lazily breaking the fourth wall to do so, or with more voiceover narration than Robert McKee from Jonez and Kaufman's Adaptation could stomach. The dirty implications themselves aren't enough to leave an impact, and The Dirt just lays face down in the dirt because of it; perhaps we needed more of Ozzy Osbourne snorting fire ants and drinking his own (and Nikki Sixx's) bodily fluids. For a film called The Dirt, it certainly could have (and should have) been dirtier.
Perhaps even more of the blame should be given to Jeff Tremaine, who makes his biggest transition to scripted features with The Dirt. The Sunset Strip in the 1980's was its own cultural world, but nothing in The Dirt seems to understand that; the aesthetics are both too superficial and too clean, rendered so modernly that this could have taken place in the 2000's. The film seems aware of this too, as its depth of field is so tight, contained, and quickly edited as if to desperately mask its failed sense of place. But nothing can compare to the film's manipulative conclusion depicting this gang for what they always were – a family. I won't discredit the real-life bandmates themselves, as I'm sure they truly feel this way about one another (and to be fair, their hardships involving Nikki Sixx's mother, Vince Neil's daughter, and the death of Hanoi Rocks drummer Razzle are necessarily explored); but within the context of The Dirt it all feels disingenuous, brief, tonally off-balance with the film's degeneracy, and so saccharine that it may have actually been more disgusting than watching Ozzy Osbourne drinking urine.
The Dirt has some good scenes, especially when director Jeff Tremaine lets loose. The concert scenes are sometimes very electric (the band's legendary first gig is a high point), a go-pro style sequence involving Tommy Lee's daily routine is rather inspired, and not all the performances suffer under the weight of the material (Iwan Rheon as Mick Mars is arguably the only more than serviceable performance). And in these moments, The Dirt had musical potential. And that potential was precisely why I was shamefully excited for this film; perhaps even nostalgically so, as Mötley Crüe was one of those bands my high school friends and I would endlessly play along to, in leather pants of course (I realize I was born in 1989, don't judge). Alongside my affection for the band's novel, it's easy to at least admire the film's attempt at debauchery, something Bohemian Rhapsody deliberately chose to shy away from. But I urge anyone (even Mötley Crüe themselves) to watch The Dirt and decipher what makes this narrative different than the experiences of any other hard rock band.
Maybe it's only appropriate that The Dirt ends up being the kind of music biopic that it is, a direct reflection of what 80's Hair Metal became – overly processed, superficial, and phony. It so desperately (and tritely) tries to kickstart our hearts, but it lacks the looks that kill.
Overall Grade: C-