Movie Review: 'Once Upon a Time…In Hollywood' is one of the 2019's best films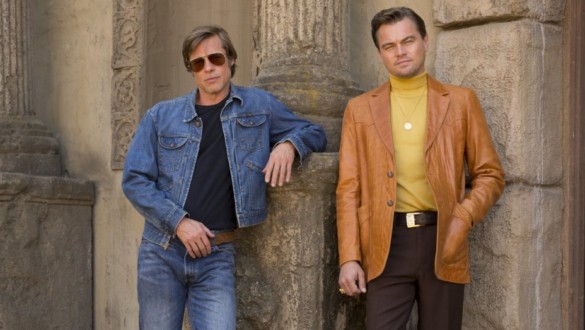 Director: Quentin Tarantino
Writer: Quentin Tarantino
Stars: Leonardo DiCaprio, Brad Pitt, Margot Robbie
Synopsis: A faded television actor and his stunt double strive to achieve fame and success in the film industry during the final years of Hollywood's Golden Age in 1969 Los Angeles.
Once Upon a Time in Hollywood is the 9th film from Quentin Tarantino (or 10th, if you count Kill Bill as two films) and it comes at an interesting time in his career. Following the muted reception for The Hateful Eight (in terms of both box office, critical reception, and awards success), Tarantino needed a return to form. I am glad to report that Once Upon a Time in Hollywood, for me, is a rousing success. The film stars Leonardo DiCaprio as Rick Dalton, a washed-up former star of TV Westerns who is attempting to forge a new career path, and Brad Pitt as Cliff Booth, Rick's handsome longtime stunt double. It also features Margot Robbie as Sharon Tate, a blossoming actress of the era whose time was cut short by the Manson Family murders. It also features a slew of Hollywood vets and young newcomers (many of whom are children of other famous people) that are too numerous to list here.
The film begins on the set of television western Bounty Law in the 1950s, where Rick Dalton is the star and is being interviewed along with Cliff. It is shot in black and white to indicate that this is a flashback, occurring before the main storyline of the film. We then jump to February of 1969, and Rick is having career difficulties. By this point, Cliff is Rick's chauffeur and is only able to work with him due to troubling rumors about his personal life. Rick is offered by producer Marvin Schwarz (Al Pacino) to star in spaghetti Westerns in Rome, but does not take the opportunity immediately. He also learns that Sharon Tate and her husband, acclaimed director Roman Polanski, have moved next door to him and he dreams of earning their trust. Meanwhile, Cliff is living in a trailer with his brown pit bull, Brandy, and just getting by. After we are introduced to each character, we are immersed in a few distinct early sequences (notably where Cliff makes dinner for himself and Brandy and Sharon goes to a party littered with famous people at the Playboy mansion). The following day, we follow each character on individual journeys through their activity.
Rick's main storyline involves him performing a villainous role on the new TV Western Lancer. Here, he interacts with precocious child actress Trudi (Julia Butters) and learns about her methods while preparing for their scene together. He struggles to complete scenes, but eventually settles into the role and garners acclaim from his co-stars. Meanwhile, Cliff goes to fix Rick's TV antenna, while reminiscing about a past experience on set with Bruce Lee. After this, he picks up a hitchhiker and takes her to the Spahn Movie Ranch, where he has a chance encounter with the Manson family. In addition, Sharon Tate ventures out to a movie theater to see herself act in The Wrecking Crew. All throughout this one day, the storylines switch on a scene by scene basis, letting some scenes linger on without interruption. It is truly immersive and gives you a feel of what it was like to be in Hollywood in 1969. Once that day is finished, the film jumps ahead in time to the day of the Manson murders, and reaches a conclusion that I'd rather not spoil here (it must be seen to be believed).
There were many standout aspects of the film for me. DiCaprio and Pitt each give performances at the peak of their movie star abilities, and both are able to tap into some of their personal stories to bring real emotion to the affair. Robbie, while not in it as much as I would have liked, has a warm and welcoming presence as Sharon Tate that makes her truly believable as a rising starlet. In terms of the extensive ensemble, most actors get only 1-2 scenes to truly shine, but the standouts for me were Margaret Qualley, Dakota Fanning, Austin Butler, Mike Moh, Al Pacino, and Julia Butters. There are many unexpected, blink-and-you'll-miss-them cameos, and most are quite enjoyable. Additionally, I thought the production design and costumes were truly immersive in the period, and the music choices were outstanding. If I had a few nitpicks, some of the scenes could have used crisper editing and more vibrant cinematography, but I liked the visual style and pacing of the film overall. Also, the ending of the film has already proven to be quite divisive, but I was fascinated by the implications of it all.
Overall, I think Once Upon a Time in Hollywood is a highly entertaining film, certainly one of the best I've seen this year. If you're a big fan of Quentin Tarantino, TV Westerns, movies about Hollywood, or the late 1960's, I can't recommend it highly enough. If none of those are your cup of tea, I'd still say to give it a chance for the performances by DiCaprio and Pitt alone. I think this is one of the first films to come out this year that will stick around come Awards Season. How successful it will be, I cannot say. But the Academy tends to be kind to Tarantino films, and with this reportedly being his penultimate feature, I wouldn't be surprised to see a major Oscar nomination haul come January.
Overall Grade: A
Hear our podcast review on Episode 336: