Movie Review: Isle of Dogs is beautiful, adventurous, and very Wes Anderson-y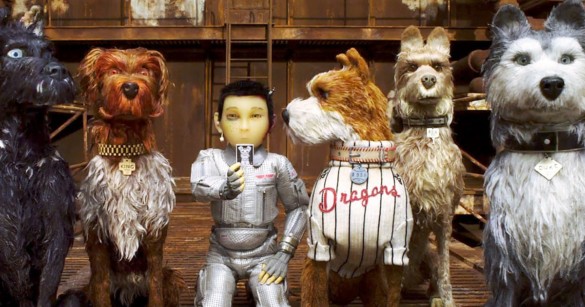 Director: Wes Anderson
Writers: Wes Anderson, Jason Schwartzman, Kunichi Nomura, Roman Coppola
Stars: Bryan Cranston, Koyu Rankin, Edward Norton, Bill Murray, Jeff Goldblum, Greta Gerwig, all of Hollywood?
Synopsis: Set in Japan, Isle of Dogs follows a boy's odyssey in search of his lost dog.
Taking your seat ahead of a new Wes Anderson film isn't the same benign practice ahead of, say, a Spielberg picture. Compliant surrender of all agency to Anderson's vision applies as much to us in the theater as it does to his characters. The universe, it seems, is a giant sandbox to the director of the madcap worlds of Steve Zissou, M. Gustave and the Tenenbaums; we are all but marionettes at the mercy of Anderson's puppetry. The trade-off is that not a single person in my screening minded. Not one bit.
Following 2014's hugely successful and my personal Anderson favorite, The Grand Budapest Hotel,
Isle of Dogs sees its auteur director revisit the stop-motion animation of 2009's Fantastic Mr. Fox. The screenplay for …Mr. Fox, of course, was adapted from the Roald Dahl novel of the same name, and this detail is both the strength and weakness of this latest animated adventure. More on that shortly, but to the plot…
Isle of Dogs takes place in Megasaki, a fictional, industrial Japanese metropolis, whose dogs have been infected with canine flu. The anti-science, cat-loving Mayor Kobayashi swiftly banishes the city's dogs, starting with his ward Atari's, to Trash Island, an archipelago on which Megasaki's forgotten pets struggle for survival. Atari soon stages a solo rescue attempt, a plot coinciding with the discovery of a cure for the canine flu blight. Mayor Kobayashi, a frequent stager of rallies before a self-portrait reminiscent of Charles Foster Kane, is, unsurprisingly, undeterred by such game-changing progress, setting the tone for a third act defined more by student activism than boyhood dog-questing. And it's this disjuncture that poses a problem the film can't quite square: the level of creative freedom in Isle of Dogs, freedom unconstrained by children's novels and physical actors, is pushed to such a degree that some narrative elements seem to exist entirely independently of others.
Anderson mainstays comprise Isle of Dogs' ensemble voice cast: Edward Norton, Bill Murray et al
certainly bring the deadpan, and deliver their dialogue with all the rapid-fire rhythm we've come to expect. The visuals are where Megasaki really shines, equally evoking both the 60's urban backdrop of Kurosawa's High and Low and Edo-period print work of Hokusai. Anderson's signature geometric compositions bind the world together with seamless ease, the director clearly having unnecessary amounts of fun with their navigation.
Isle of Dogs, then, is as much a playground as a tale-teller. It's Wes Anderson at his most out-there, and, for his fans, there's likely no conceivable limit to which that can be acceptably pushed. Minor concerns aside, this is a beautiful, adventurous and consistently funny piece of work that wears both its influences and heart on its sleeve.
Overall Grade: B
Hear our podcast review on an upcoming episode.