Movie Review: 'Faces Places' invents its own new form of artistic expression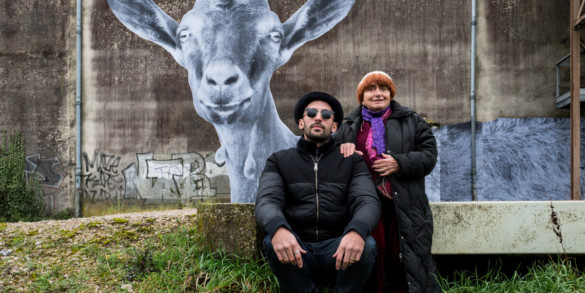 Director: JR and Agnès Varda
Writers: JR and Agnès Varda
Stars: JR and Agnès Varda
Synopsis: Director Agnès Varda and photographer/muralist JR journey through rural France and form an unlikely friendship.
From just the opening logos of Faces Places, we hear the tuning of a lone acoustic guitar, two musical strings and notes that slowly, but surely, intertwine in perfect unison and harmony. And thus, without even seeing the faces of our two protagonists, we instantly sense the notion of two unlikely artists who come together to inspire one another, sensory storytelling at its finest. Two people of vastly different ages and genders, filmmaker Agnès Varda and photographer JR embark on an artistic journey in the self-discovery of others, how one's own facial evocation of either joy or pain has its own history behind the smiles or the frowns, a similar history shared by their respective hometowns. Many places and structures, given their physical wear and tear, clearly have a story waiting to be shared, we just need the ability to put a face to it; let's thank Varda and JR for finding a way to synonymize the two for us. Faces Places is so good, it practically invents a new form of artistic expression, a metamorphosis of human expression with our physical surroundings, of literal face and place.
In Faces Places, Agnès Varda, mostly known for her involvement in the French New Wave direcing films like Cleo from 5 to 7, teams with photographer and artist JR for an adventure of artistic nostalgia. JR, complete with his youthful poise and unnecessary sunglasses, is perhaps the most nostalgic splitting image of Jean-Luc Godard (once a friend to Varda), so the fact that their artistic venture is very much driven by nostalgia is only appropriate. On their journey, JR prints out large portraits of random people's faces and bodies, and pastes them on structures meaningful to them, for the rest of the world to see. It's not so much a simple act of pasting, but an act of engraving one's legacy within locational history, and to put it as bluntly as possible, it's downright beautiful.
Faces Places may be a documentary, but it's cinematically structured like a buddy road movie. Presented as a series of artistic vignettes, the film moves and cinematically captures settings that evoke an ancient quality to them, almost as if we are being transported back in time without a time machine. And as a series of vignettes, it never wears out its welcome; there's genuine excitement as we await the next individual's emotional response to being "pasted". A few of the best sequences need calling out: the wives of a few dockworkers, engraved as full-body silhouettes with their true selves siting inside their hearts; a group of factory workers, all reaching toward each other, asking for a sense of workplace camaraderie; and a sequence on a beach, engraving a memory of Varda's past on an abandoned ship block, only for the tide to come next day and symbolically wash it away.
And thus, this external exercise then turns into an introspective one for Varda and JR themselves, moments of contemplation that spark nostalgic memories of their own. Perhaps they were so busy visualizing the history of others they forgot about themselves, the fact that they too have their own histories they want to intimately share. They may be the artists, but that shouldn't make them any different than their subjects. In fact, JR at one point even turns Varda into one of his own subjects, pasting her feet and eyes symbolically on a moving train, always progressing forward, always inspiring, regardless of age.
And what a message to convey, especially as the film concludes as a warning of one's mortality. Death haunts this entire film, so much so that I would be hard pressed to call this a sort of ghost story. Even history itself, the thesis of Varda and JR's art, is the notion of stories that have come and gone, but does that make them any more forgotten? It's not just the ability to evoke history emotionally, but to share it with someone else is arguably more important. It's through this conversational act that an unlikely friendship is born, beautifully seen by both us and by Varda and JR themselves, even given their own visual hindrances (a nice ironic touch that one slowly loses her vision, while the other chooses to darken his). Forget the countless blockbuster sequels we get every weekend, let's revisit this unlikely pairing for another adventure. And then another one.
Overall Grade: A+
Hear our podcast review on Extra Film: