Movie Review: 'Anna and the Apocalypse' is a zombie Christmas musical, enough said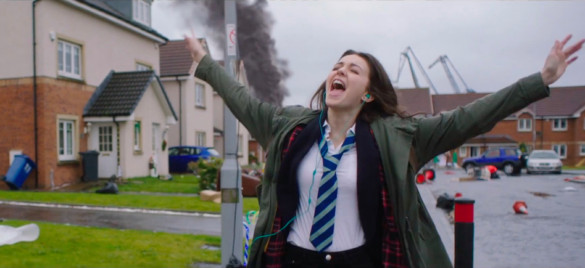 Director: John McPhail
Writers: Alan McDonald and Ryan McHenry
Stars: Ella Hunt, Malcolm Cumming, Sarah Swire and Paul Kaye
Synopsis: A zombie apocalypse threatens the sleepy town of Little Haven – at Christmas – forcing Anna and her friends to fight, slash and sing their way to survival.
If someone told me they wanted to make a musical about zombies I probably would have laughed and sarcastically told them "good luck with that…" Luckily the creative geniuses behind Anna and the Apocalypse didn't consult me before making their movie. I first heard about this film from my local theater's film festival, Lost Weekend. It was one of the best received films out of the 27 or so they showed over that weekend. I unfortunately didn't get to see it then, but it was recently released close-ish (two hours away) to me, so I jumped on the chance to see it. It's showing in just over 100 theaters around the US now (more in the UK), so if it's in a theater near you, please go see it. Though it only recently has its theatrical release, Anna and the Apocalypse has been around since 2017 where it debuted at the Fantastic Fest film festival in Austin.
Anna and the Apocalypse tells the story of a small town in Scotland that is plagued with a zombie outbreak at Christmas. It stars Ella Hunt as high school student Anna, the main protagonist, and Malcolm Cumming as her best friend John. Most of the cast is unfamiliar to me, save for the malevolent soon-to-be headmaster Savage, played by Paul Kaye. I spent the entire movie thinking "I know him from somewhere…" and it wasn't until the end that I placed him as Thoros of Myr from Game of Thrones. He ended up being one of my favorite characters. His song "Nothing's Gonna Stop Me Now" gave me Neil Patrick Harris/Count Olaf vibes. Sarah Swire who plays the outcast/journalist Steph also has an amazing voice, I really enjoyed her character too. Ben Wiggins, who plays Nick the good-looking-popular-athlete-jerk stereotype also surprised me in his song "Soldier at War". I was determined not to like him, but his velvety voice and flawless falsetto won me over.
I honestly couldn't think of anything negative to say about this film. There are things that, if done, could have made this movie bad, but they didn't go that route. If they had gone a different way with the ending or changed the fate of the some of the characters, it probably would have been too cliché or too much 'Christmas high school musical' not enough 'zombie apocalypse'. But this movie has the best combination of all of those elements. The zombies were done well, the songs were catchy, good balance of comedic relief, and the singers were great. I was shocked at how well everything meshed together. The only comment I have is this may not be Christmassy enough (for some critics) to be declared an official "Christmas Movie". It fits more into the Die Hard category, where it's a film that happens to take place during Christmas. (Which is perfectly fine by me and I'd consider it a Christmas movie.)
Honestly, if "Zombie Christmas Musical" doesn't intrigue you, then Anna and the Apocalypse probably isn't the movie for you. If you are interested, this movie is a good mix of fun and scary, and definitely has all the makings of a cult classic. I've been jamming out to the soundtrack for a week and hoping it's either released on Blu-ray or to a theater closer to me soon.
Overall Grade: A