Featured: SXSW 2019 Daily Dispatch – Day 2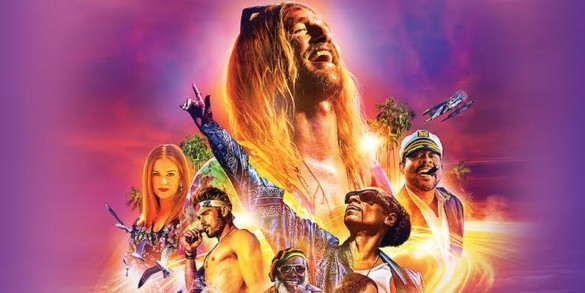 Howdy everybody, welcome back to my coverage of the 2019 SXSW Film Festival that is going on in Austin, TX. Riding the high of day one and seeing one of the most buzzed about films of the year in Us, I was very much looking forward to see what the day would bring and seeing how the festival could elevate itself. And while it didn't start off so hot, the day turned itself around big time. By the end of the day, I started to realize how much I need South by Southwest in my life and that you always stay till the end of the movie.
So with my first screening of the day, I went to see the directorial debut of Tom Cullen's Pink Wall staring Tatiana Maslany and Jay Duplass, which chronicles their character's relationship through the six moments in their six-year relationship, one moment to define the year. It is an interesting premise but unfortunately it didn't work for me as a whole. There are three or so moments within the six that work for me but as a whole I just couldn't get on board with it. The film has a lot to say about what each other's role in a relationship should be, chasing your ambitions in life and the ramifications of good and bad decisions can affect the lives of the ones you love. While the film does talk about all of these issues, nothing the script gives us sounds new in any way and thus didn't feel fresh enough to elevate Pink Wall from being just an average relationship movie. But with that said, Maslany and Duplass do have very good chemistry in the film, and Maslany gives the best performance of her career. She is the true reason why this film worth seeing and when by the time I got to the final scene of the film, I realized that I want to see her in more films because when she is given roles, whether it is this or Stronger, she can really knock it out of the park.
I then made it over to The Paramount Theater for a back to back screening of two of the headliners for the festivals, and what could be the best one-two combo I've seen in recent memory. The first film was The Beach Bum, which was the long awaited return of director Harmony Korine, the director of indie hit Spring Breakers from 2012. The Beach Bum is a weed-fueled magnum opus for Korine, who examines the world and our lack of adventure through the eyes of one of the craziest characters to be put on screen in Matthew McConaughey's Moondog, in a role that McConaughey was born to play. The film is an absolute joy drive, with laughs galore, a soundtrack full of great sing-a-long needle drops and a supporting cast that is portrayed perfectly by Isla Fisher, Snoop Dogg, Martin Lawrence, Jonah Hill and Zac Efron, all who shine in their scenes with McConaughey and show they are having just as much fun making this film.
Once The Beach Bum ended, I headed back in line, then literally back into The Paramount to catch the newest Seth Rogen comedy co-staring Charlize Theron, Long Shot. The film follows Rogen as a journalist that is hired as a speech writer for the Secretary of State, played by Theron, to write speeches for her upcoming announcement for her bid to become the next President of the United States. The thing is, when they were younger, Theron babysit Rogen and she was his first ever crush and thus the film puts these two complete opposites together and hilarious hijinks commences. But don't be fooled by the fact that this is Seth Rogen comedy, this film is directed by Jonathan Levine, who last worked with Rogen on a film called 50/50, which was a movie that had a lot of great humor to go with tons of heart and that is exactly what you get with Long Shot. The chemistry between Rogen and Theron, who is fantastic as always, is off the charts and it's kind of crazy that it works so well. Sure some of the scenes run a little long and felt a little disjointed, it was hard not being fully into this movie because the two leads just have so much fun and you really connect with them by the end. It doesn't come out till May but you will be hard pressed to find another mainstream comedy come out this year that is as funny and charming as this one.
Check back here tomorrow for my day 3 recap and follow me on Twitter @ryanmcquade77 for more coverage of SXSW.